The sad truth about the Washington Nationals' collapse this year is that I can now kick back and actually enjoy a baseball game. There are no stakes for me. A loss is a loss. A win is a win. My envy is palpable, for sure – those fans of the Astros, Cubs, and Mets, and all the other teams in the 2015 playoffs, are in the midst of a ride an entire generation of youngsters and old-timers alike will remember fondly for their remaining days. But I get to watch all of it and enjoy it without really worrying about the outcome. It's a feeling that, for some reason, I only get in baseball. It's a good feeling.
You can be sure I have my eye on one team in particular. That would be the Chicago Cubs, who, despite the existence of every Washington, D.C. team, remain the standard-bearers for perpetual ineptitude. The obvious: the North Siders haven't won a World Series since 1908, they've won one playoff series since then (how i
s that even possible?), numerous curses have been placed on Wrigley Field, Steve Bartman existed, and all of this is so well-documented that even the most average American citizen is aware of it. The Cubs' history is littered with so much failure that when people tell me the Redskins have to win a Super Bowl at some point in my lifetime, I shudder. Someone said that to a Cubs fan in 1910, I'm sure of it. That Cubs fan is now dead. I hope they have WGN in heaven.
Why root for the Cubs? Surely the Astros, losers of more games than anybody over the past several seasons, are a viable candidate. How about the Mets, and the success-starved fans at Citi Field? Even the Royals, whose sheen as an upstart is slowly dulling, seemingly deserve some love from fans across the country.
No. Not even close. All of those teams have endured heartbreak for years, but none have endured what the Cubs have faced.
This is why I'm rooting for the Cubs.
I went to school in Chicago. I even lived in Wrigleyville for my junior year, a two-minute walk from Wrigley Field. I attended multiple Cubs games and had more fun in the Wrigley neighborhood than any other part of the city. I know what those fans have been through.
Yet they keep coming. No matter what.
Cubs fans are incredible. There is no single fan base in North American sports (besides, perhaps, those maniacs at the Bell Centre cheering on their Habs) that has such a connection to their team. Tell me all you want about Pittsburgh Steelers fans and St. Louis Cardinals fans, wax poetic about Los Angeles Lakers fans and Detroit Red Wings fans – Cubs fans are a special breed. Their team has won as many important games in the last 107 years as a deep dish pizza, yet they stream through the gates at their incredible ballpark year in and year out. You know what happens to teams that lose perennially? The fans stop coming. The bottom line keeps dropping. The team disbands or moves away. Not the Cubs.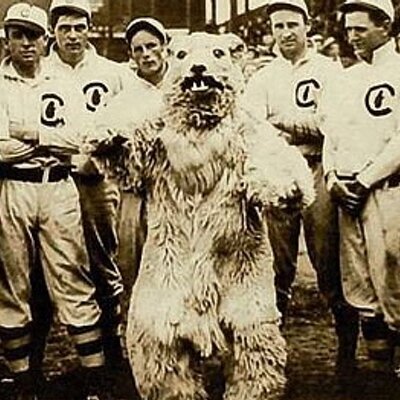 To be sure, the mystique of such a titanic losing streak is a cause for camaraderie. If the Cubs had won, say, two or three championships since 1908, perhaps the novelty of their current run would be less impactful. But here we are. One playoff series win in 107 years. That kind of tradition brings people together.
This is why I'm rooting for the Cubs.
You know what Cubs fans have witnessed in the last several years? They've seen the hated Chicago White Sox end a similarly historic title drought. They've watched the Arizona Diamondbacks and Colorado Rockies, two teams with laughably insignificant histories in comparison, win and appear in a World Series, respectively. Cubs fans have seen the goddamn Florida Marlins win two championships, one of which was aided by the Cubs' ineptitude. They've even seen our very own Washington Nationals, as disappointing as they are, transform from also-ran to odds-on World Series favorites within 10 years of existence. Cubs fans can be excused for wondering why the hell this kind of stuff happens to other teams and not theirs.
This is why I'm rooting for the Cubs.
More than any other fan base, those who follow the Cubbies deserve a win. ESPN doesn't cut away to bars and outdoor viewing parties for every team, they do it for teams like the Cubs, whose fans are so desperate for a seminal victory that they gather in copious numbers to imbibe mountainous flights of alcohol in the hope that the big block "W" will be raised over the outfield ivy.
Remember when Vancouver shat itself after the Canucks lost the Stanley Cup? Everyone still has vivid memories of the party on Bourbon Street after the Saints won the Super Bowl. Riots, parties, call them what you want, they were large events that signified intense passion.
Those celebrations would be…well, if you're not at least somewhat associated with Chicago, it's probably hard to understand how insignificant those celebrations would seem if the Cubs somehow pulled one out. Wrigleyville would be in ruins by the following morning and people would still be partying in the streets well into the next day. The Loop would be deserted because everyone would take the day off to recover. Every local news channel would halt normal activity to cover the victory, and I'm quite certain Rahm Emmanuel would declare some sort of city-wide holiday to commemorate the event. The skyline would probably be dotted with the red and blue the Cubs don on gameday, and all around the city memorials would crop up, legal or otherwise, to mark the occasion. The Bears, even if they were good, would be an afterthought for weeks, something that almost no other city can claim would happen.
It would be the best kind of madhouse. There ain't no party like a party that hasn't happened for 107 years.
This, above all, is why I'm rooting for the Cubs.